Acceleration offers its clients an experienced leadership team backed by the science and laboratory knowledge to get the job done right and on-time.
Our leadership team includes:
Brent Taylor, Chief Executive Officer
Brent joined Acceleration in November 2009 after leading the group that acquired a majority interest in Acceleration. Brent is a native of the Kansas City area having grown up in the south KC area before his family relocated to the Liberty area. Brent received his BS in Economics & Finance from Baker University in Baldwin City, KS. Post graduation he began his career in Mississippi with Universal Underwriters Group (now Zurich) as an Account Executive. After 7 years in Mississippi, Brent returned to the local area and spent the next 5 years in the local banking industry as a lender and business development director. Brent is a 2010 graduate of the Greater Kansas City Chamber of Commerce Centurions Leadership program. Brent is proud to be leading Acceleration and looks forward to the challenges present in growing the company into one of the most recognized and respected CROs in the drug development industry. Furthermore, Brent has committed Acceleration to being an integral part of advancing the region's initiative in the life sciences arena, as well as supporting local civic causes through both volunteerism and financial support.
Brent currently is involved with two local organizations, Gillis and Urban Rangers, which are both dedicated to providing educational and personal growth opportunities for at risk young men. He currently serves as committee chair for Gillis Golf Classic, its annual fundraising event. Gillis is a private educational campus specializing in serving needs of young men faced with behavioral development problems. The Urban Ranger Corps is an organization, which serves at risk, Kansas City male youth by providing job skill training, educational support and mentoring outreach services in the local urban community. Brent is currently serving on the Board of Directors for this organization in the capacity of Treasurer. Brent is proud to serve both these organizations in various volunteer and fundraising capacities.
Brent and his wife Leigh reside in the Hyde Park neighborhood of Kansas City with their two young children, Hayden and Leighton. They have invested themselves in being a part of the urban renewal of our region and are committed to making Kansas City a great place to live and raise a family.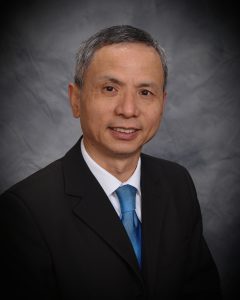 Charlie Z. Zhou, Ph.D., Director Analytical Services
Charlie, who is highly respected within the life science industry, arrived at Acceleration in 2015 with over sixteen years of working experience in quality systems with pharmaceutical industries and more than thirty years of experience in pharmaceutical/nutraceutical analyses. Charlie earned a Masters in Pharmaceutical Analysis, Jiangxi University of TCM, Nanchang, China and a Ph.D. in Analytical Chemistry, Mississippi State University.
Charlie began his career as a senior scientist and manager of analytical activities at JFC Technologies, Bound Brook, NJ. At JFC Charlie engaged in in analytical method development, validation, and transfer in supporting of drug substances development (RM, process, and finish products). Charlie worked as Sr. Chemist with Barr (now Teva), Mutual, and Actavis, respectively. In 2007 Charlie accepted a senior scientist and group leader position at Perrigo Pharmaceutical Company, Piscataway, NJ. At Perrigo Charlie developed over thirty analytical methods for API, excipients and pharmaceutical products in addition to preparing CMC sections for ANDA filings. Charlie became the Vice President of Sinotherapeutics, Inc. in Shanghai China. From the ground up, Charlie built a leading quality systems team and established SOPs/protocols and test procedures.
With such a passion for science, Charlie's work/life balance is in a perfect place working at Acceleration. When not in the lab, Charlie can be found jogging through many of the Kansas City area parks or showing off his superiority to the rest of the staff in table tennis. He and his wife both love to cook and have two adult sons and one grandson.
Robert Poe, M.B.A., General Manager
Robb joined Acceleration in January 2011, bringing 17 years of experience in contract pharmaceutical development.  He has worked in varying operational management, business development, and strategic leadership roles involving bioanalysis, Phase I clinical, contract manufacturing, and clinical training.  Robb is well known in the industry for finding innovative solutions to the issues clients face.
He is an avid and experienced outdoorsman, as an Eagle Scout he remains very active teaching Boy Scouts advanced outdoor skills for camping, backpacking, and land conservation.  His favorite role is mentoring Eagle Scout candidates on their service projects and advancement.  He currently volunteers as the Heartland Presbyterian Center Charter Organization Representative for the Boy Scout Troop,Venture Crew, and a newly formed Cub Scout Pack.  With 35 active years in Boy Scouts, Robb has served in many roles including:  Scoutmaster, Assistant Scoutmaster, Advancement Chairman, Troop Committee Chair, and District Unit Commissioner, along with many camp staff positions.  A teacher at heart, Robb is also involved at the middle and high school educational system in advocating for improved teaching aids in the sciences for students with dyslexia and other learning disabilities.
Robb received his BA in Business from Ottawa University in Ottawa Kansas and his Master's in Business Administration with a dual focus in Strategic Leadership and International Business from Amberton University in Dallas Texas.  Robb is a Kansas City native.